Installations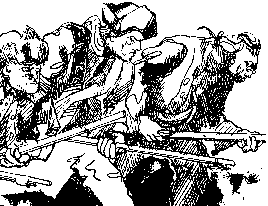 Bunker Hill Pavilion, Boston, MA.
Excerpt from Wait till you see the "Whites of Their Eyes" show at Bunker Hill Pavilion brochure...
"You're in Boston, bitter about the British blockade. You sense the tension on the faces of the troops, still smarting from the shot heard around the world. You share the fear and pride of the farmers as they dig in atop Breed's Hill.
Dawn breaks and, with the sun, come the redcoat regiments. You steady tour sweaty flintlock as Colonel Prescott whispers the word to wait. Then, at last, the whites of of British eyes trigger your rifle.
You're surrounded by the sights and sounds of America's first full scale battle. You forget you're being stunned and stirred by a multi-media spectacular. You're right in the middle of the battle of Bunker Hill.
"Whites of Their Eyes" gives you a whole new perspective on the American Revolution. You better understand the agony of a costly British victory, and the determination that sprang from a new nation's battlefield bravery. You're there as America first proves its military mettle.
All this is brought to you in-the-round with more than a thousand color slides, 14 screens, 22 life size costumed figures and seven channels of sound."
A SuperBox II from Visual Database Systems is used to control two Pioneer LD-V8000 Laserdisc players which provide 7 channels of soundtrack plus a control track for synchronizing the slide projectors, movie projector and effects.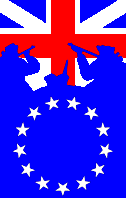 "Whites of Their Eyes" is sponsored by Raytheon Historical Foundation Corporation, a non-profit foundation established to foster educational and historica activities relating to the foundation of the Republic.
---
Bugs, glitches, comments or want more info:

[email protected]